Welcome To Schwartz Brothers Landscape Solutions- a Top Rated Service
Having a beautiful lawn requires you to hire a premier St. Louis landscaping company. If you want the greenest and thickest yard, look no further than Schwartz Brothers. Our landscaping designs and lawn maintenance programs create some of the best yards in the Saint Louis, Mo area. Schwartz Brothers was founded in 2009 by Brandon and Brian Schwartz with a commitment to provide the absolute best customer service possible. Schwartz Brothers is a local, family owned and operated company and is recognized as one of the top landscaping companies in the area. We proudly serve residential, commercial, multi-tenant, industrial, and municipal customers throughout the St. Louis County and St. Charles County areas.
Landscaper- If You Want your your yard to be the envy of the neighborhood call us!

Whether you want us to mow your grass, trim your shrubs, trim your trees, or any other yard care or landscaping services we offer, we work with each individual customer or property manager to meet their needs and make sure all work is completed within our quality guidelines. You don't just want to trust your yard to any landscaper. We employ a top notch landscape architect, landscape designer, and landscape lighting designer. We offer a free quote on all of our services and you can check out our reviews on Angie's List. Call our office and speak to a friendly lawn care St. Louis expert.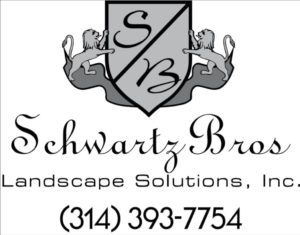 Services We Offer In St. Louis County
As a premier lawn care company in St. Louis we have been providing professional services throughout Saint Louis since 2009. We offer grass cutting, lawn fertilizer, weed control, shrub treatment, care for trees, aeration, dethatching, mulching, leaf remove, gutter cleaning, snow removal, retaining walls, irrigation systems, and patio installation.

There are over 70 municipalities within St. Louis county with a total population of over 1 million. We service the following areas within the County: Brentwood, Chesterfield, Clayton, Creve Coeur, Frontenac, Kirkwood, Olivette, Richmond Heights, Rock Hill, University City, Warson Woods, Webster Groves, and Wildwood. If you live in one of these areas and want Schwartz Brothers to maintain your yard, please contact us for a bid.

Services We Offer In St. Charles County?
Much like St. Louis County, Mo we offer complete lawn care st. Charles programs. The most common services we offer are mowing, fertilization, weed control, shrub treatment, aeration, dethatching, mulching, leaf remove, gutter cleaning, snow removal, retaining walls, landscape design and patios. St. Charles County is much smaller than neighboring counties as it has just over 20 municipalities or cities. Schwartz Brothers offers services in Augusta, Cottleville, Dardenne Prairie, Defiance, Lake St. Louis, Ofallon, St. Charles, St. Peters, Weldon Springs, and Wentzville.

Lawn Care St. Louis- Why is it Such an Important Investment ?
There are two main reasons why it is an excellent idea to invest in professional lawn care. St. Louis, like the rest of the country, has a real estate market driven by the economy and by the properties themselves.
St. Louis County has the highest income in the state but a potentially-weaker-than- average real estate market. This means that forward-thinking home and business owners need to do everything possible to (1), make sure that their property gets noticed by prospective buyers, and (2), those properties are as attractive as possible, in terms of both beauty and low-maintenance.
• Proper yard care can decrease the length of time a property is on the market – sometimes by as much as a month and a half.
• Landscaping, when done right, can increase a property's value by as much as 12%.
• Home and business owners who spend just 5% of their property's value on the exterior grounds can enjoy a return of investment as high as 150%.
• Approximately 90% of real estate firms recommend that owners use lawn care St. Louis to prepare their property for sale and to maintain those properties after listing.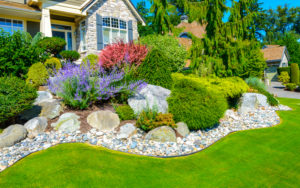 Schwartz Brothers Wants To Earn Your Business!
If you demand high quality service and are ready to work with one of the best landscaping companies, we want to hear from you. Our landscaping and mowing service team has gone through a rigorous background check and is fully insured. If you want to make your landscaping look better and be the envy of the neighborhood, call our lawn care St. Louis team and we will make that happen. We are ready to earn your business and would like to give you a free quote for grass cutting, maintenance, seeding, or any other outdoor service we offer that will make your lawn the talk of the town.

Check out our reviews and see for yourself that we are not only one of the top rated lawn care companies, but we are recognized as a leading landscape provider throughout the entire state of Missouri. Pick up the phone and call us at 314-393-7754, email us, or complete our online request for bid form today to get your free custom quote, find out about any new programs and special offers, and to get your questions answered. We guarantee 100% satisfaction. Work with one of the most recognized lawn service and landscaping companies and let your yard be the envy of your neighborhood!
Follow Us on Google+