Commercial Lawn Care St. Louis
The Importance of Your Lawn and Landscaping For Your Commercial Property
The lawn, landscape, and grounds of your property createthe "first impression" thata home or place of business presents to your tenants, guests or customers. When all is said and done, their condition – lush and luxurious or patched and sparse – is a direct personal reflection upon you as a prideful homeowner or respectable business owner.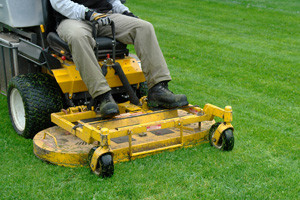 Turf Management
If you own residential property in St. Louis, your lawn and landscaping will tell your guests volumes about the pride of ownership (or lack thereof) that you feel for your property. A neglected, poorly-maintained or planned lawn, or haphazard, disorganized landscaping can give guests and passers by a poor opinion of your property and significantly detract from the rest of your home.
If you own a business anywhere in St. Louis, improperly-kept landscaping and grounds can send the unfavorable message that you pay no attention to the little details that can spell prosperity or disaster for a company. Just as you dress yourself for success, you should likewise dress your businessfor success with a meticulously-groomed lawn and a professionally-planned landscaping design.
Lawn and Landscape Management
The professional landscape engineers employed by the best commercial lawn care companies in St. Louis will work hard to ensure the beautiful and healthy growth of your landscaping and lawn by developing a regular dedicated schedule of precise cutting, expert management, and customized care. The right commercial lawn care company will use this regular schedule to help in "training" the plants of your lawn and landscape and aid in creating a lush, inviting environment for your residents, guests, or customers.
Not all commercial lawn care companies in St. Louis, MO are created equal. Only the best will include a menu of offered services featuring such tasks as mowing, fertilizing (both chemical and organic), pruning, seasonally-appropriate planting and cleanups, and other commercial lawn services.
Below is a list of services Schwartz Brothers Lawn Care offers: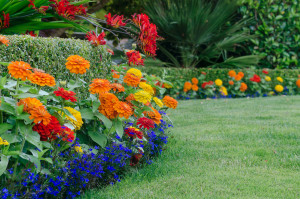 Annual Color Programs
Landscape Design and Architecture
Complementing the regular care of existing plants and lawns, a top-quality St. Louis commercial lawn care company will be able to professionally design, build, and install acomplete landscape environment for your property. A professionalist. Louis landscape architect will typically schedule an introductory assessment meeting with you, to inspect the existing, envision possibilities, listen to your ideas and plans, and ultimately, draft an individualized plan with you to incorporate all possibilities for your property.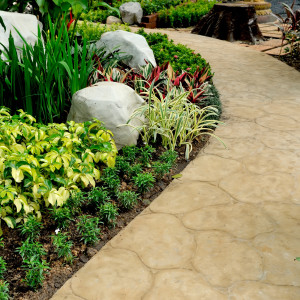 Landscape Design
With this service, the possibilities are virtually limitless, with the only barriers being the dimensions of your property and the plant types that are best suited to Missouri weather. Some of the projects that a landscape architect from a professional St. Louis commercial lawn care company can assist with include:
• Paths and Walkways– A quality St. Louis commercial lawn care company will be able to help you turn your ideas forthe perfect garden walkway into a reality. The best companies will design patterns/walkways made from a several different material types, offering them in a wide range of styles and colors–brick, concrete, pavers, stepping stones, gravel, flagstones, wood chips, and even an eco-friendly artificial mulch made from recycled tires. Each of these materials can arrive in many different colors and sizes, suitable for matching or customizing any desiredlook. The materials can even be combined in a number of ways to create a singular look that is unique to your property.
• Terraces and patios–projects of this type utilize the same materials as walkways, but this hard scape type necessitates other considerations. If your property is raised off of the ground, you may want to include a raised patio or add multiple levels to your ground-level patio. If your property includes a lot of outside entertaining you may consider personally-chosen architectural touches, such as seatwalls, which can provide interesting way to provide extra seating.
• Water and Fire Elements –The creative team at a high-end St. Louis commercial lawn care company can suggest artistic creations that greatly enhance the outdoor experience of your landscaping area. Water elements can include ponds, fountains, gazing pools, and small waterfalls. Fire elements can include trendy chimeneas and fire pits.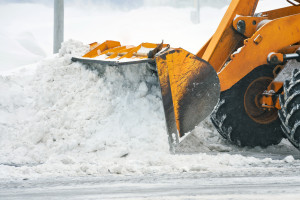 Snow Removal
• Retaining Walls – If the topography of your property is uneven, your local St. Louis landscape architect can recommend a retaining wall to maximize your effective planting space and improve overall drainage.
• Nightscaping/Lighting– This is the strategic addition of lighting to enhance the evening and nighttime enjoyment possibilities of your property.This can be recessed lighting placed among your shrubbery, lights along the walkway, or even artistic lanterns hung in different areas. It is the mission of a local St. Louis commercial lawn care specialist to suggest options that complement your property.
• Driveways –The majority of people mistakenly do not take into account that a driveway can and should play a major role part in their overall landscape design. However, those that include it happily find that the project can be a rewarding and welcome aspect of their landscape's appearance. If your landscaping area, walkways, or patio are constructed of interlocked paving bricks or stones, thatappearance can be extended to include the driveway for a neat, tied-in look.
Automated Irrigation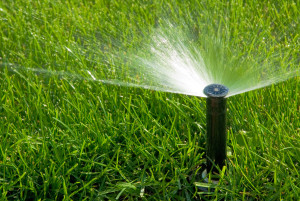 Sprinkler Repair
A significant number of landscaping clients, particularly businesses, opt to have a St. Louis commercial lawn care company that they employ, install automatic sprinkler systems with a programmable timer. This type of setup affords those clients with the lawn and plant protection that comes with a regular watering cycle, combined with the hassle convenience of automation. The programmable aspect of the sprinkler system is extremely convenient,and important the health of the plants and lawn.With this type of service, the best commercial lawn care companies in St. Louis will provide on-call emergency repair services. Regular servicing and maintenance of the equipment should also be provided, including both yearly winterization and springtime reopening.
Commercial Lawn Service St. Louis, MO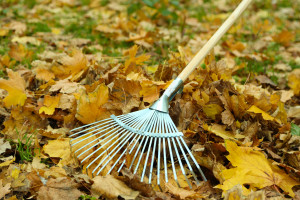 Leaf Removal
The best full-service St. Louis commercial lawn service companies should offer commercial clients the same customizable service menu offered to their residential clients. Additionally, the commercial lawn maintenance company should be able to offer turnkey property management of all lawns, plants, shrubs, and trees.This is a convenient and valuable service for St. Louis commercial lawn service clients that own or maintain numerous properties. The best St. Louis commercial lawn maintenance companies will conveniently set up a regular year-round schedule for all of their clients' landscaping and lawn care/maintenance needs. By wisely choosing a local commercial lawn maintenance company,you can guarantee the on going beauty and health of each plant on every property.
About St. Louis County, MO
With approximately a million residents, St. Louis County, MO is the most populous county in Missouri. It is no exaggeration to say that as St. Louis County goes, so goes the rest of the state. Most outsiders would be surprised to learn, however, that St. Louis County does not include the city of St. Louis, which is a rare independent city.Because of its unique geography, St. Louis County has a climate that has a wider variance in temperature and weather events than most other parts of the country. Winter storms can happen even in the spring, but late spring can also bring tornadoes, right before blistering summers. Fall, however, is particularly beautiful, as the region's large shade trees – Hickory, Maple, Oak, American Sycamore – begin to turn. The simple pleasure of sitting out-of-doors protected by a screened in porch and enjoying the fall colors is practically an official regional pastime.
Schwartz Brothers Landscape Solutions
Home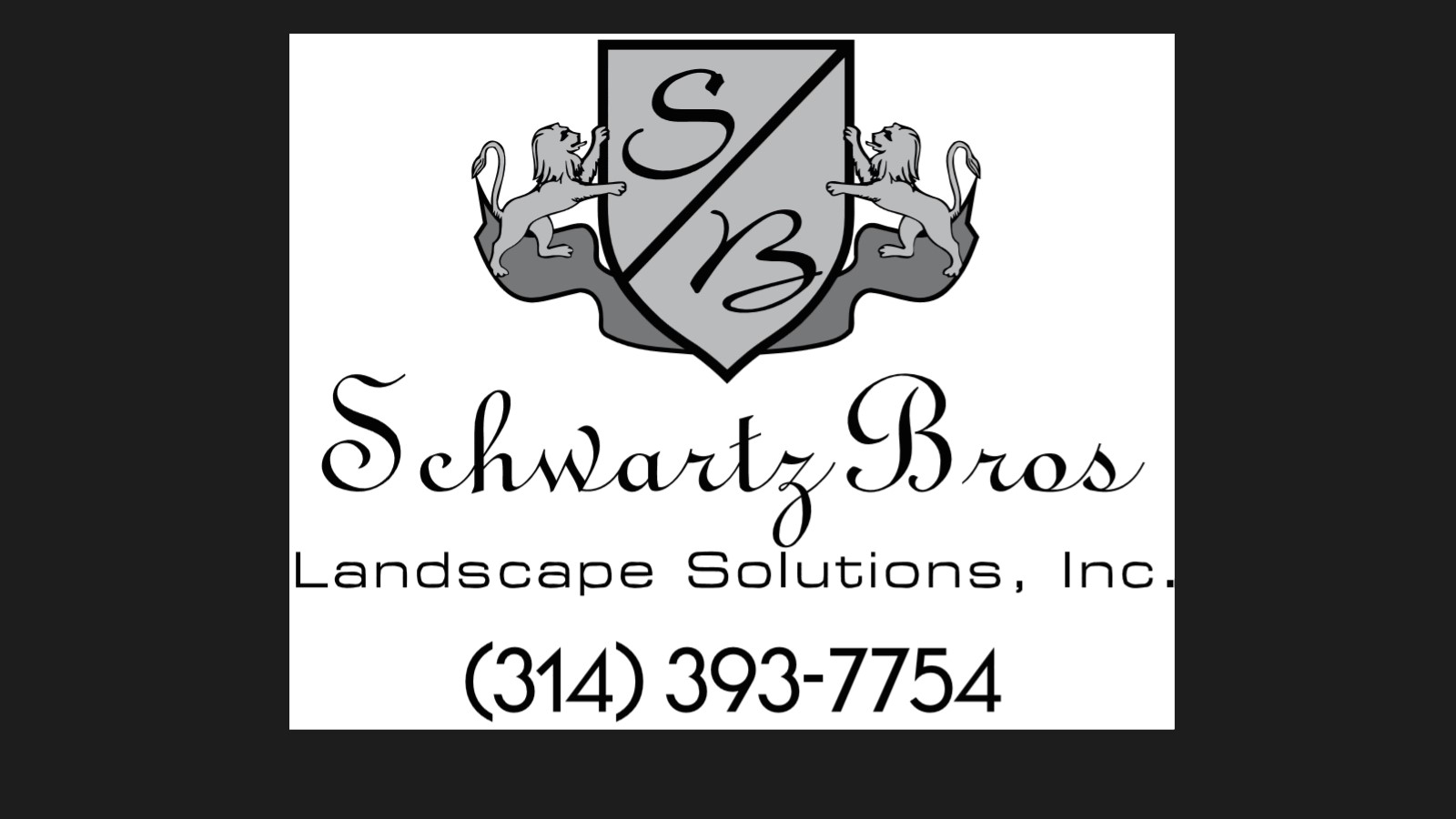 (314) 393-7754
3903 Dalton Industrial Dr
Bridgeton
,
MO
63044
Hours:
Mon-Fri 8am – 5:30pm