Fertilizing is one of the important parts of effective lawn care, as it affects the color of the grass and helps prevent weeds and lawn diseases. Not only this, fertilizing ensures the soil gets sufficient nutrition to bolster plant and grass growth.Fertilizer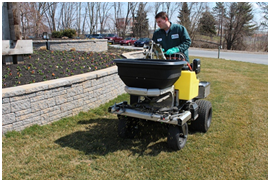 can be applied when there is a deficiency of nitrogen, or phosphorus because the natural soil cannot always provide plants with the required quantity of these elements.
Generally, the nitrogen content of the fertilizer depends on the type of lawn. For instance, a high-maintenance lawn requires fertilizer which has up to 4lbs of nitrogen, for every 1,000 square feet of lawn area. For low-maintenance lawns, up 2lbs is sufficient. You may also be worried about undesirable weeds growing in your lawn. Weeds spoil the beauty of your lawn because of the contrast in color and texture with other plants.
Schwartz Brothers Landscape Solutions offers complete fertilizing and weed control programs to make your yard the envy of the neighborhood.Fertilization programs are offered in 5, 6, or 7 step programs to ensure the perfect fit for your lawn and budget. Lesser application programs are available for a nominal price increase. Schwartz Brothers uses high quality slow release fertilizer, and appropriate weed control practices to control broadleaf as well as grassy weeds.
•Early March: Pre-Emergent/Fertilizer –We apply a pre-emergent product to control crabgrass and other grassy weeds. The pre-emergent also contains fertilizer to keep your lawn healthy during the spring months.
•April: Broadleaf Weed Control –We apply a weed control treatment to ensure weeds are kept under control and a micronutrient treatment to ensure lawns are getting enough vitamins to withstand the summer months
•May: Weed Control/Slow Release Fertilizer –We apply a weed control treatment to ensure that annual and perennial weeds are kept under control, as well as a light fertilizer to help the turf stay green and healthy
•June: Grub Control/Slow release fertilizer/spot spray for broadleaf weeds –June is the time to apply insect control before they become a problem over the summer months. The slow release fertilizer will ensure your lawn stays green and healthy through the stressful summer months.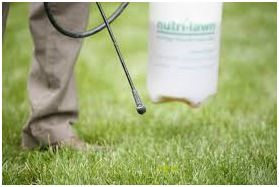 •Early July: Weed Control/Summer Fertilizer/spray for crab grass and nutgrass –Our licensed applicators will visit your property to apply another round of weed control to ensure that your lawn remains healthy during the summer months. The heat of July and August is a very stressful time on your lawn, and making sure weeds are not competing with your grass for nutrients is essential to a quality lawn in the St. Louis region. We will also apply non burning summer fertilizer with iron to help keep your lawn green during July and August
•August: Spray broadleaf weeds as well as crabgrass and nutsedge in preparation for fall seeding – We will come out and conduct a final spray to knock down crabgrass and troublesome broadleaf weeds like spurge that thrive during August, ensuring a clean slate heading into the fall seeding season.
•Early September: Aeration, Over seed and Starter Fertilizer or Simply Fall Fertilizer – We will aerate your lawn either one time or two times in separate directions, depending on your preference. We will recommend the appropriate seeding rates for your lawn depending on its condition. A good rule of thumb is to apply 5 lbs of seed per 1000 sq ft. This is a highly recommended rate for the upkeep of lawns in this region. We use the finest seed mixes, comprised of award winning strains proven to grow in the Midwest region. Along with seed we apply starter fertilizer which provides an ideal chemical environment for seed germination
•November/December: Winterize –This is one of the most important treatments for the health of the lawn. Winterizer will provide nutrients to ensure the root system of the turf stays healthy during winter's brutal weather.
Spot treatments of nutsedge and crabgrass are available should the need arise, at an additional expense. Fungicides are available on either a preventative schedule or a curative treatment, should the need for one arise.
Should you decide to take on the daunting task of fertilizing and weed prevention on your own, here are some tips to help you out.
Weeds fall into 2 main categories, i.e. annuals and perennials. Annual weeds grow in your lawn year on year. They produce seeds for future growth and then perish. Perennial weeds aren't dependent on the season and they grow back every year.
There are some measures you can take to keep the turf weeds under control. Foremost among this is changing your method to focus on grass plants and not the weeds. You can change the mowing height, reduce or increase the number of times you mow the lawn a year, change the irrigation schedule, or use less or more fertilizer, depending on your needs. In addition, you have to apply some chemical to keep weed growth to a minimum. Make sure the one you use doesn't cause any damage to the plants.
If you encounter annuals weeds, you should apply the granular weed preventers right about the time the spring season starts as this is when the weeds start germinating. But these products do not last all season long. A second shot of weed preventer is recommended after 8 weeks which will give weed control especially in rainy seasons. In hot summers, the weather alone will prevent the late season weed problem
A specific type of herbicide called postemergence herbicides can kill weeds after the weed plants have shown up and are growing but are still in their early stages. Generally, it is better to go for a liquid spray as opposed to a dry material, but for homeowners, the dry, granular formulations may be the most efficient method. Do
keep in mind that you have to exercise a great deal of caution when using herbicides as they can harm the trees and plants in your lawn.
Nonselective postemergence herbicidesare ideal for getting rid of the weeds which resist the effect of other herbicides which you might have used. For treating a spot of 'stubborn' weeds, apply the herbicide solution generously.
If you are usingpreemergence granular materials, they should be applied with a fertilizer spreader. The best way to do so is to apply half the material in one direction, and then go perpendicular with the other half.
The last piece of advice for lawn owners would be to be careful using herbicides and weed preventers around the time you are planting new grass seed because these products can stunt the growth of new grass.
To apply mulch, first spread under shrubs around 3 to 4 inches deep. Pull mulch away from the trunks of shrubs to create a donut-hole. Ideally, the mulched area around a tree should cover a to 5-foot diameter around the trunk. It is more beneficial for the roots if there is a larger mulched area.Check the mulch depth annually and replenish as necessary.
If there is no mulch, the soil can break apart during rain. Mulch protects the soil from erosion. It reduces water runoff by providing a sponge surface which absorbs water and slows it down. So,regularly mulch your plants to ensure they stay healthy.
Schwartz Brothers is a leader in lawn fertilizing and weed prevention.